The world of Stand Up Paddle is already looking to the ICF World SUP Championships 2023 with a big participation of more than 800 competitors
The wait for many Stand Up Paddle lovers is coming to an end. From November 15 to 19, Thailand will welcome more than 800 riders from around the world for a new edition of the ICF SUP World SUP Championship, specifically in Pattaya.
To put you in the situation, this place is a kind of spa popular with tourists and expatriates in the Gulf of Thailand, about 165 kilometres southeast of Bangkok. It is known for its activities, including a wide range of water sports, golf, shopping, cabaret shows, an elephant village and large museums. And, from what they say, it is accessible for any pocket.
Now, returning to the intro of this post, it is expected to break participation records in an ICF SUP World Championship. Analyzing the registration lists, China and the countries in the area will bring a large convoy of participants. Without forgetting the brutal number of people who come from Europe: Spain, France, Italy and practically all the countries linked to canoe federations. Canada will also take a large number of participants, USA, etc…


We will be able to see people of all ages and with different objectives, since we are talking about a very touristy place and many people will take the opportunity to enjoy a pleasant vacation in the area. As you already know, one of the great attractions of this World Cup is the proximity to the large factories of the Stand Up Paddle industry. For weeks, brands such as Starboard, Sunova and NSP, among others, have taken the opportunity to hold meetings with their international riders, to strengthen their commitments and even test new material.
As a major international event for our sport, it will have a series of competitions in various SUP modalities: Sprints, Long Distance y Technical Race.
CALENDAR
15/11: OPEN SPRINT PRELIMS / MASTER AND JUNIOR SPRINT HEATS
16/11: SPRINT MAIN DRAW
17/11: LONG DISTANCE / U13 / U15 / INFLATABLE / ONE DESIGN
18/11: OPEN TECHNICAL PRELIMS / MASTER AND JUNIOR TECHNICAL HEATS
19/11: TECHNICAL MAIN DRAW
CATEGORIES
As you will see below, one of the points to highlight for this year is the change from foolproof to rigid boards for the Junior category (I think it was desperately requested). The incorporation of the U15, U13 and Fun race categories seems great to us since allowing the youngest and amateurs to have the opportunity to participate in an event of this magnitude is something very important. You already know how important the basis of Stand Up Paddle is to us!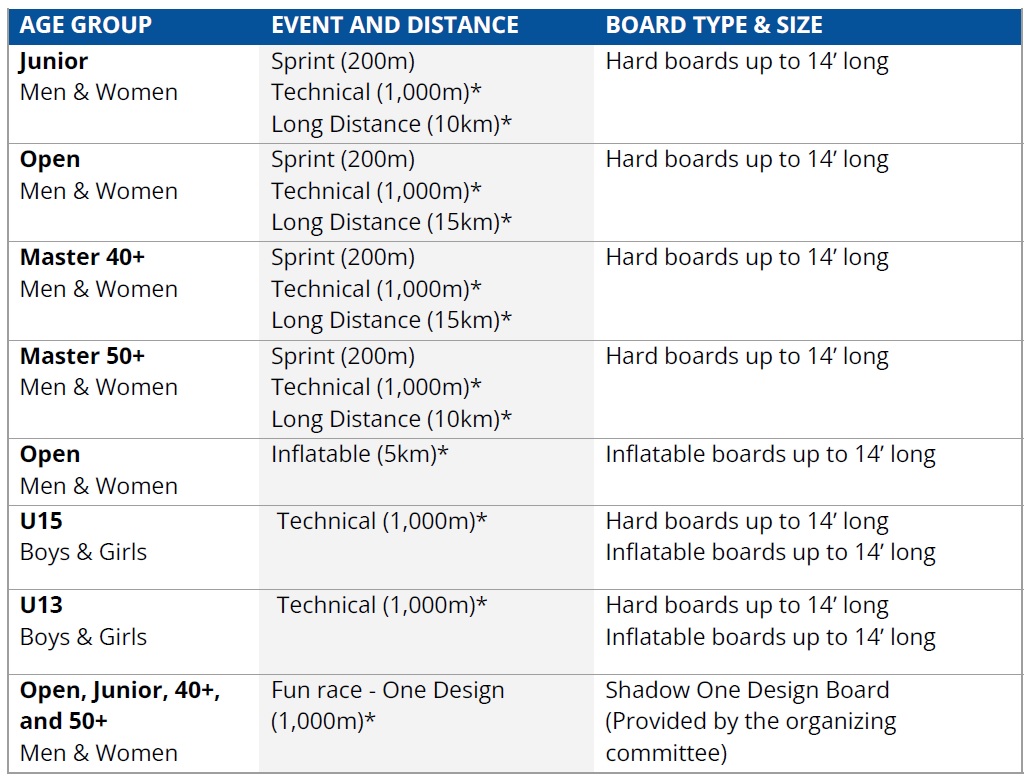 VENUE & RACES MAP
 Jomtien Beach, Pattaya (for Technical, long distances)
Jomtien Beach is located in the southern Pattaya area. The beach is the favorite destination for tourists from around the world, specifically for watersports activities. Furthermore, you can find plenty of seafood street vendors and restaurants alongside the beach. Jomtien Beach has got the honor of hosting so many sports in "World and Continental Level Championships" such as "The Jet Ski World Cup", "SUP Thailand Championship", and the latest "2ndAsian Canoe Ocean Racing Championships"
The Royal Thai Navy Rowing and Canoeing Association of Thailand, Rayong
RCAT Training Centre, located at Ban-Chang, Rayong, and 35 Km (30 mins) from Jomtien Beach. The centre gathers all facilities for all kinds of rowing and canoeing activities. The competition venue dimensions are W = 100 m., L = 2,100 m., and D = 3.20 m.(average). It also has the Finish Tower, Athletes' accommodation, Cafeteria, Gym, Medical room, Washroom, 3 Boathouse, and Navy Brew Coffee shop. The average temperature is around 28 – 33 Degree Celsius throughout the year.
COMPETITORS LIST
The list of participants of the ICF World SUP Championships and its different modalities is now available by clicking HERE
PRIZE MONEY
As in previous editions of the ICF SUP World Championship, those who come to Thailand will have the opportunity to win money in the first three places in the following categories:
MEN OPEN TECHNICAL
Gold: 2500€
Silver: 1500€
Bronce: 1000€
MEN OPEN SPRINT
Gold: 2500€
Silver: 1500€
Bronce: 1000€
MEN OPEN LONG DISTANCE
Gold: 2500€
Silver: 1500€
Bronce: 1000€
WOMEN OPEN TECHNICAL
Gold: 2500€
Silver: 1500€
Bronce: 1000€
WOMEN OPEN SPRINT
Gold: 2500€
Silver: 1500€
Bronce: 1000€
WOMEN OPEN LONG DISTANCE
Gold: 2500€
Silver: 1500€
Bronce: 1000€
STREAMING
At the moment, we cannot confirm the channel on which the races will be broadcast. We assume that the organization will announce it very soon. However, we leave you the following links:
From Up Suping we wish good luck to all the participants, and much success to the technical team and the organization of the ICF SUP World Championship!
---
UP#42: YOUR SUP&FOIL FREE DIGITAL MAGAZINE ONLINE!
---